EPIC CONFERENCE | INTRODUCTION | ELDER FACTS | PROGRAM CURRICULUM
BENEFIT TO YOU | VERIFIED CE CREDITS | TUITION | FAQ'S | LIVE CLASS SCHEDULE
DISTANCE LEARNING | GRADUATE COMMENTS | EPC MEMBERSHIP | CODE OF ETHICS
MEET THE FACULTY MEMBERS | COMPLAINTS AND COMPLIANCE | OUR PARTNERS
MEDIA | MEMBER LISTING | MEMBER UPDATE | MEMBERSHIP RENEWAL | CONTACT US
LIVE EXAM PREPARATION CLASS SCHEDULE

Warning enrolment closes 14 days prior to the posted exam prep. class dates
Click here to enrol securely online for any of the following cities OR
Call toll free 866 833-8606 and we will personally enrol or pre enrol you


2017 Dates - Live Exam Preparation Class Schedule

New Westminster

Baas Executive Offices,
400 – 604 Columbia St.,
New Westminster, BC

October 2, 3, 4, 5

Regina

October 2, 3, 4, 5

Lethbridge

Lethbridge Construction Association,
1705 36 St N.,
Lethbridge, AB
October 10, 11, 16 & 17

Toronto
Nov. 27, 28, 29, 30

Enrolling or Pre Enrolling for a class? Call our toll free enrolment line and we will take your enrolment personally 855 882-3427

If there are 10 or more enrolees from the same company attending the same class each enrolee will receive a $100 discount.

Did you know that we will hold a private class at your location for 20 or more students from the same company and give you a tuition discount too? Call us for details.

Class Format - 7:45 AM to 5:00 PM (1 hour for lunch)
Exam on the last morning consisting of 125 multiple choice questions.

Tuition fees
Live Class - $995.00 + TAX
Distance Learning - $1095.00

+ TAX

First year annual membership fee of $150.00 is waived upon payment of your tuition fee!
EPIC CONFERENCE | INTRODUCTION | ELDER FACTS | PROGRAM CURRICULUM
BENEFIT TO YOU | VERIFIED CE CREDITS | TUITION | FAQ'S | LIVE CLASS SCHEDULE
DISTANCE LEARNING | GRADUATE COMMENTS | EPC MEMBERSHIP | CODE OF ETHICS
MEET THE FACULTY MEMBERS | COMPLAINTS AND COMPLIANCE | OUR PARTNERS
MEDIA | MEMBER LISTING | MEMBER UPDATE | MEMBERSHIP RENEWAL | CONTACT US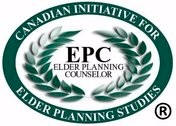 Canadian Initiative for Elder Planning Studies Inc.
203-4438 Ontario Street

Beamsville, ON L0R1B5

Toll Free Phone 866 833-8606 Toll Free Fax 866 209-5111
This web site Copyright © 2017 Canadian Initiative for Elder Planning Studies
tification class, correspondence course, online study, seniors, 50 plus, textbook, correspondence, CIEPS, Canadian Initiative for Elder Planning Studies, competitive edge, advisors, older people, elder marketing, old, boomers, marketing strength, education, elder studies, institute, insurance financial planning, health, long term care, gerontology, lifestyle, counselling, retirement, training for professionals"