EPIC CONFERENCE | INTRODUCTION | ELDER FACTS | PROGRAM CURRICULUM
BENEFIT TO YOU | VERIFIED CE CREDITS | TUITION | FAQ'S | LIVE CLASS SCHEDULE
DISTANCE LEARNING | GRADUATE COMMENTS | EPC MEMBERSHIP | CODE OF ETHICS
MEET THE FACULTY MEMBERS | COMPLAINTS AND COMPLIANCE | OUR PARTNERS
MEDIA | MEMBER LISTING | MEMBER UPDATE | MEMBERSHIP RENEWAL | CONTACT US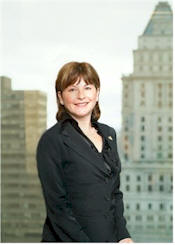 Ms. Caron Czorny, FLMI., ACS., CFP., CLU., CH.FC., EPC

Faculty Member
Toronto, ON
Caron joined AIG Life of Canada in September 2008 as the Vice President, Sales. Prior to joining AIG, Caron was the Executive Vice-President and Chief Operating Officer of PEAK Insurance Services. Her achievements there included founding a new company (AgenZ Group) with 2 other MGA partners. AgenZ Group is now the back office for alll PEAK insurance operations. AgenZ Group has proven to be a cost-effective alternative for combining resources and pooling production, while maintaining independence as an MGA, an industry first. Because of this achievement, Caron was featured in articles in The Insurance Journal, Advisors's Edge Report and spoke at the 2008 national MGA symposium.
Caronís previous positions include that of Senior Vice-President, National Sales and Marketing with Hooper-Holmes Canada Ltd. (2004), Senior Vice-President, Marketing & Sales with Equinox Financial Group (2002-2004) and President of ReMark Canada Inc., a global insurance direct marketing firm (1998-2002), where she achieved record sales and revenue numbers in 2 of her 4 years there, thanks in part to her networking abilities. Before a brief stint at Imperial Life as VP, Sales, she moved up the ranks at Westbury Life (now RBC Insurance) over 10 years from Sales Manager to VP, Product Research and Market Development. Starting her career at Commercial Union Life Insurance Company as an underwriter, she had roles of increasing responsibility from that of Senior Underwriter to Life Marketing Manager.
Other achievements include being a member of the Board of Directors of GeniSystems from 2002 until its sale in 2005. She also held a Board position with the Canadian Marketing Association (chair, Finance Committee) from 1999-2000.
Her community involvement includes municipal politics, since she is the elected Counciillor for District 5 of Wentworth- Nord, where she has a cottage.
Fluently bilingual, in English and French, well known and proud to be involved in our industry, Caron was named President of CAILBA in 2008. She was also a Board member of the ACGSF (Quebec MGA association). She is currently a member of the CLU Board of Trustees (chair, marketing committee), a CALU Associate member and a member of RAG (Research Advisory Group). Having attained her Elder Planning Counselor (EPC) designation in 2004, she has been on the faculty of CIEPS ever since.
Ask Caron a question e-mail Caron
EPIC CONFERENCE | INTRODUCTION | ELDER FACTS | PROGRAM CURRICULUM
BENEFIT TO YOU | VERIFIED CE CREDITS | TUITION | FAQ'S | LIVE CLASS SCHEDULE
DISTANCE LEARNING | GRADUATE COMMENTS | EPC MEMBERSHIP | CODE OF ETHICS
MEET THE FACULTY MEMBERS | COMPLAINTS AND COMPLIANCE | OUR PARTNERS
MEDIA | MEMBER LISTING | MEMBER UPDATE | MEMBERSHIP RENEWAL | CONTACT US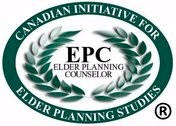 Canadian Initiative for Elder Planning Studies Inc.
203-4438 Ontario Street

Beamsville, ON L0R1B5

Toll Free Phone 866 833-8606 Toll Free Fax 866 209-5111
This web site Copyright © 2018 Canadian Initiative for Elder Planning Studies






"EPC designation, EPC, canadian elder benefits, Elder Planning Counselor, Distance Learning, Correspondence Course, CE Credits, CSA, Certified Senior Advisor, estate planning, end of life planning, senior social issues, elders, caregiving, caregiver, chronic illnesses, retirement benefits, government benefits, OAS, CPP, lifestyle, dementia, dymentia, alzheimer's, alzheimers, medicare, bereavement, snowbirds, funeral planning, end of life issues, designation program, training, certification class, correspondence course, online study, seniors, 50 plus, textbook, correspondence, CIEPS, Canadian Initiative for Elder Planning Studies, competitive edge, advisors, older people, elder marketing, old, boomers, marketing strength, education, elder studies, institute, insurance financial planning, health, long term care, gerontology, lifestyle, counselling, retirement, training for professionals"