EPIC CONFERENCE | INTRODUCTION | ELDER FACTS | PROGRAM CURRICULUM
VERIFIED CE CREDITS | TUITION | FAQ'S | LIVE CLASS SCHEDULE | CODE OF ETHICS
DISTANCE LEARNING | GRADUATE COMMENTS | EPC MEMBERSHIP | MEET THE FACULTY MEMBERS | COMPLAINTS AND COMPLIANCE | MEMBER UPDATE | MEMBERSHIP RENEWAL | OUR PARTNERS | MEMBER LISTING | MEDIA | CONTACT US
EPC MEMBERSHIP
First year membership fee of $150.00 is waived upon payment of your tuition fee!
Upon successful completion of the EPC Designation course, you will receive your Membership Package.
YOUR MEMBERSHIP PACKAGE INCLUDES:
A "Successful Completion of Designation" certificate showing that you have met all the EPC requirements.

A press release, customized with your name etc., for publication in your local media and on the World Wide Web.

An EPC logo in JPEG and .eps format, depicting your EPC designation for advertising purposes.

A very nice member lapel pin to wear proudly.
Periodic email newsletters designed to keep you up to date and informed of any timely information or changes in the Elder markets.
Included with your membership is access to a "Members Only" password protected website - this web site contains a "Forum" where you can dialogue with your peers!

Many value added member benefits including hotel discounts, car rental discounts and more!
---
Elder Planning Counselor Membership Renewal Fees
Like any Professional Designation, there is an annual membership fee. The first year membership fee is waived with the cost of tuition. These membership fees are used to keep the materials current and maintain the program.
Membership fees are also used to help offset the costs of the Elder Planning Issues Conferences (EPIC) that we hold should the EPC choose to attend.
As a member in good standing, the EPC is also entitled to access the EPC member's website that contains timely messages, tips, "My Pulse", hotel, car discounts, access to expertise, resource library, promotional information brochures for clients, press releases, elder specific resources as well as customized Certificate of Completion frames and reduced membership in the Canadian Association of Retired Persons (CARP) which includes the Zoomer magazine.
An EPC also has access to our Faculty if they have any questions pertaining to any of the subjects that are covered in the EPC program. Many EPCs have found this to be a tremendous benefit when they are asked certain questions by their aging clientele.
As the EPC program continues to grow, more benefits will be added.
The current membership renewal fee is $150 + applicable taxes for your Province of residence.
EPC Membership Renewal dues can be paid annually or on a monthly basis.
Continuing Education
As an EPC member, part of the renewal process is to have 30 CE credits on a yearly basis just like any other professional designation.
If your current occupation requires you to have Continuing Education credits, to maintain your various licences, then we accept those credits as fulfilling your CE credit requirement to maintain your EPC Designation.
If you are in an occupation that does not require you to have Continuing Education credits, to maintain your various licenses, then you do not require CE credits to maintain your EPC Designation.
---
Tuition fees
Live Exam Preparation Class - $995.00 + TAX
Distance Learning - $1095.00 + TAX

EPIC CONFERENCE | INTRODUCTION | ELDER FACTS | PROGRAM CURRICULUM
VERIFIED CE CREDITS | TUITION | FAQ'S | LIVE CLASS SCHEDULE | CODE OF ETHICS
DISTANCE LEARNING | GRADUATE COMMENTS | EPC MEMBERSHIP | MEET THE FACULTY MEMBERS | COMPLAINTS AND COMPLIANCE | MEMBER UPDATE | MEMBERSHIP RENEWAL | OUR PARTNERS | MEMBER LISTING | MEDIA | CONTACT US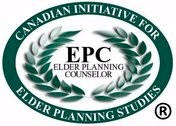 Canadian Initiative for Elder Planning Studies Inc.
203-4438 Ontario Street

Beamsville, ON L0R1B5

Toll Free Phone 866 833-8606 Toll Free Fax 866 209-5111
This web site Copyright 2020 CIEPS












"EPC designation, EPC, canadian elder benefits, Elder Planning Counselor, Distance Learning, Correspondence Course, CE Credits, CSA, Certified Senior Advisor, estate planning, end of life planning, senior social issues, elders, caregiving, caregiver, chronic illnesses, retirement benefits, government benefits, OAS, CPP, lifestyle, dementia, dymentia, alzheimer's, alzheimers, medicare, bereavement, snowbirds, funeral planning, end of life issues, designation program, training, certification class, correspondence course, online study, seniors, 50 plus, textbook, correspondence, CIEPS, Canadian Initiative for Elder Planning Studies, competitive edge, advisors, older people, elder marketing, old, boomers, marketing strength, education, elder studies, institute, insurance financial planning, health, long term care, gerontology, lifestyle, counselling, retirement, training for professionals"