ENROL SECURELY HERE to Begin the EPC Journey!
TUITION INCREASING SOON – Register today, to take advantage of the current tuition of ONLY $895 + tax for the EPC Exam Preparation Live Class or Distance Learning method of attaining your EPC Designation.
ELDER PLANNING COUNSELOR DESIGNATION PROGRAM
A quote from Mr. Peter Wouters, RFG., AIAA., ARP., TEP., FLMI., RHU., CFP., CLU., CHFC., ACS., ALHC., CPCA., CHS., AFSI., EPC CIEPS Advisory Council & Faculty Chair
"Anyone interested in developing a specialty and acumen in the unique needs, wants and issues of today's and tomorrow's elder population will find this a very worthwhile program. We are confident that much of what you will learn you will not have picked up elsewhere, certainly not in a format geared to actionable items and developing deep meaningful relationships with elders, beyond the numbers and figuring out how much is enough."
Regardless of your discipline or where you operate, knowing more about the right way to handle elder clients and their issues will only make you better at what you do.
With new Regulations, proper advice and proving value for money is critical to success. An Elder Planning Counselor Designation puts you ahead of the curve.
__________________________________________________
Feedback From a Current EPC Member
Good afternoon Alex,
I just renewed for another year. Thought I would quickly share a short story regarding the use of EPC knowledge. Short version I asked about this older lady at a small restaurant I go on occasion for lunch.
She would help tidy up and then be served a meal…literally working for her lunch. I was told her spouse was in a nursing home and their modest govt pension for him were redirect there to pay for his room.
She was trying to live on $580 a month, others in the restaurant had been helping to pay her bills. When I got home to my den I sat there thinking something wasn't right and then I remembered a class on government benefits and specifically GIS which I didn't think she had applied for.
Long story short we got her hooked up with an advocate through a group called life spin and she is now receiving an extra $950 a month or so plus they back dated so she got an extra $2000 she feels like a queen now. We are also working on getting her some subsidized housing. None of that would have happened if I had not remembered that class held by EPC.
Best regards,
Patrick Kinsella EPC
Kinsella Wealth Management
London, ON
__________________________________________________
Feedback From a Recent Retired EPC Member
Thank you so much for the opportunity to learn so much from your courses & information.
It truly helped me to serve my clients better & help them & their families work through health changes.
Warm regards,

Barb Kwasnik, Managing Director
Desjardins Financial Security Independent Network
Chestermere, AB
__________________________________________________
The Canadian Initiative for Elder Planning Studies, believes that working with the maturing client involves a "total needs approach", and that these needs evolve from an individual's early wage-earning years and continue to change as the individual moves through the aging process. Our Elder Planning Counselor EPC curriculum is a comprehensive education program designed to recognize these needs and provide you with the essential knowledge and tools that are necessary to effectively develop a proper rapport and design practical solutions.
Our mission is to enrich the knowledge and understanding of professionals including Insurance and Financial Advisors, Real Estate Agents, Attorneys and Accountants, Care givers, Medical personnel and generally people who work in the 50+ age group through education on topics focusing upon the evolving and specialized needs of Canadians as they age.
The Elder Planning Counselor program offers you:
Ø The most comprehensive, up-to-date educational content available in the marketplace today.
Ø Access to quality education from a company that is respected in the Financial Services Professional Development field.
Ø Educational instruction and content from many internationally recognized, qualified educators who are highly regarded in their fields
Ø Modules that are relevant and specific to your professional practice, together with the flexibility to tailor your learning towards your career objectives.
We invite you to explore our web site to learn more about our program. We are sure that you will find the Elder Planning Counselor "EPC" International Designation Program, informative, rewarding and most of all, useful to you as you interact with our aging population.
_______________________________________________________

Here is what the Globe & Mail published Jan. 7, 2019 about the Elder Planning Counselor Designation. An excerpt from this article...

"In Canada, some advisors already specialize in financial planning for older Canadians, certified through an Elder Planning Counselor (EPC) designation offered by the Canadian Initiative for Elder Planning Studies.

Globe Advisor spoke to certified financial advisors with an EPC designation to discuss what key areas of financial planning are different for Canadians aged 80 and up."

This article should provide you with all the reasons why earning the EPC Designation will help you as you interact with our aging society, and more.
The EPC designation program is also provided through colleges, financial firms, and other delivery partners as well. View some of our delivery partners here - EPC Delivery Partners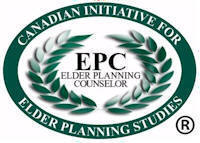 Canadian Initiative for Elder Planning Studies Inc.
203-4438 Ontario Street

Beamsville, ON L3J 0A4

Toll Free Phone 855-882-3427 Toll Free Fax 866 209-5111
Copyright CIEPS (2020) Ltd






"EPC designation, EPC, canadian elder benefits, Elder Planning Counselor, Distance Learning, Correspondence Course, CE Credits, CSA, Certified Senior Advisor, estate planning, end of life planning, senior social issues, elders, caregiving, caregiver, chronic illnesses, retirement benefits, government benefits, OAS, CPP, lifestyle, dementia, dymentia, alzheimer's, alzheimers, medicare, bereavement, snowbirds, funeral planning, end of life issues, designation program, training, certification class, correspondence course, online study, seniors, 50 plus, textbook, correspondence, CIEPS, Canadian Initiative for Elder Planning Studies, competitive edge, advisors, older people, elder marketing, old, boomers, marketing strength, education, elder studies, institute, insurance financial planning, health, long term care, gerontology, lifestyle, counselling, retirement, training for professionals"