EPIC CONFERENCE | INTRODUCTION | ELDER FACTS | PROGRAM CURRICULUM
VERIFIED CE CREDITS | TUITION | FAQ'S | LIVE CLASS SCHEDULE | CODE OF ETHICS
DISTANCE LEARNING | GRADUATE COMMENTS | EPC MEMBERSHIP | MEET THE FACULTY MEMBERS | COMPLAINTS AND COMPLIANCE | MEMBER UPDATE | MEMBERSHIP RENEWAL | OUR PARTNERS | MEMBER LISTING | MEDIA | CONTACT US
VERIFIED CE CREDITS - Applicable to the Financial Services Industry
Our recognition and accreditation speaks for itself!
40 CE Credits for Life & A&S License Renewal for BC, SK, ON
22.5 CE Credits for Life & A&S License for Alberta - Approval code 50256 (maximum allowable)
15 CE Credits for Life & A&S License Renewal for Manitoba – ID # 11473 (maximum allowable)
12 CE Credits for Manitoba General Insurance License Renewal (maximum allowable)
8 CE Credits for British Columbia General Insurance License Renewal
12 CE Credits for Saskatchewan General Insurance License Renewal
6 Hours Personal category for Ontario RIBO General Insurance License Renewal
FP Canada - CFP Designation "Verifiable" CE credits - Any CE credits earned from CIEPS could be used for a specific amount of the following CE categories of CE credits - Financial Planning, Practice Management, Professional Responsibility, Product Knowledge or Giving Back as per the definition of each. FPSC leaves it up to the CFP designee to determine what category these CE credits will fall into.
IIROC/CECAP Approval – Successful completion of the EPC Designation Program qualifies for 20 Professional Development CE credits, CECAP # 010748 & 5 Compliance CE credits CECAP # 010749 for Cycle 8 beginning January 1, 2020 and ending December 31, 2021.
Advocis - Any CE credits earned from CIEPS are considered "Approved" CE credits for Advocis. Send this certificate to them so that these CE credits are included for your Advocis CE requirements.

Recognized/Approved/Accredited" for CLU, CHS CE credits for the Institute for Advanced Financial Education (IAFE)
---
Chartered Account practicing in Ontario? Click the image above for your requirements.
EPIC CONFERENCE | INTRODUCTION | ELDER FACTS | PROGRAM CURRICULUM
VERIFIED CE CREDITS | TUITION | FAQ'S | LIVE CLASS SCHEDULE | CODE OF ETHICS
DISTANCE LEARNING | GRADUATE COMMENTS | EPC MEMBERSHIP | MEET THE FACULTY MEMBERS | COMPLAINTS AND COMPLIANCE | MEMBER UPDATE | MEMBERSHIP RENEWAL | OUR PARTNERS | MEMBER LISTING | MEDIA | CONTACT US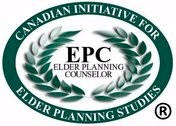 Canadian Initiative for Elder Planning Studies Inc.
203-4438 Ontario Street

Beamsville, ON L0R1B5

Toll Free Phone 855-882-3427 Toll Free Fax 866 209-5111
This web site Copyright 2020 CIEPS












"EPC designation, EPC, canadian elder benefits, Elder Planning Counselor, Distance Learning, Correspondence Course, CE Credits, CSA, Certified Senior Advisor, estate planning, end of life planning, senior social issues, elders, caregiving, caregiver, chronic illnesses, retirement benefits, government benefits, OAS, CPP, lifestyle, dementia, dymentia, alzheimer's, alzheimers, medicare, bereavement, snowbirds, funeral planning, end of life issues, designation program, training, certification class, correspondence course, online study, seniors, 50 plus, textbook, correspondence, CIEPS, Canadian Initiative for Elder Planning Studies, competitive edge, advisors, older people, elder marketing, old, boomers, marketing strength, education, elder studies, institute, insurance financial planning, health, long term care, gerontology, lifestyle, counselling, retirement, training for professionals"