EPIC CONFERENCE | INTRODUCTION | ELDER FACTS | PROGRAM CURRICULUM
BENEFIT TO YOU | VERIFIED CE CREDITS | TUITION | FAQ'S | LIVE CLASS SCHEDULE
DISTANCE LEARNING | GRADUATE COMMENTS | EPC MEMBERSHIP | CODE OF ETHICS
MEET THE FACULTY MEMBERS | COMPLAINTS AND COMPLIANCE | OUR PARTNERS
MEDIA | MEMBER LISTING | MEMBER UPDATE | MEMBERSHIP RENEWAL | CONTACT US
ELDER FACTS
GERONTOLOGY
The growing interest in understanding the process of aging has given rise to the many fields of gerontology, the study of the biological, psychological, and social aspects of aging. Gerontologists include researchers and practitioners in such diverse fields as biology, medicine, nursing, dentistry, psychology, sociology, economics, political science, and social work. These individuals are concerned with many aspects of aging, from studying and describing the processes involved, to seeking ways of improving the quality of life for older people.
Situation Critical
At the turn of the century in Canada, the life expectancy was only 56 years of age.

In 1952 when the Old Age Security was introduced, the payout began at Age 70 and paid $40.00 per month…Life expectancy in 1952 was only 67 years of age.

In 2013, life expectancy was 84.31 years for women and 78.98 years for men.

In 2013, there were 6,900 Canadian centenarians (and 80% of them were women). By 2031, there will be 17,000 centenarians and by 2061, close to 80,000. By that time, most cohorts of baby boomers will have reached 100.

There were 10 million elders in Canada in 2013, representing roughly 29% of the total population. According to Statistics Canada's population projections, in a little more than 15 years (2031) over a third of Canada's population will be 55 years of age or older.

Latest Statistics Canada information show seniors made up 16.1 per cent of Canada's population as of July 1, 2015, compared to 16.0 per cent for children between the ages of 0 and 14.




The 2015 population growth rate for Canadians over the age of 65 was 3.5 per cent, nearly quadrupling the national average of 0.9 per cent.
EPC DESIGNATION
The Elder Planning Counselor plays a very important part in dealing with elders on a financial, social or health basis.
The astute professional who recognizes elder trends, wants and needs, will have an ample supply of clients, prospects and referrals to keep them busy.
We invite YOU to do what it takes, and achieve your EPC Designation – TODAY!
ELDERS EXPECT MORE
The EPC Designation program will improve your options and give you more control over your business.
Before taking the EPC Designation course, many of our targeted professions treated the 50+ population in the same way as they did their younger clients and prospects.
What does the 50+ population expect from you?
Elders appreciate professionals who:
Know the issues and alternatives that are important and unique to senior life.


Respect their circumstances and confidentiality.


Provide guidance and assistance with the elder's best interests in mind.


Accommodate their physical and health challenges such as illnesses, vision or hearing impairment, when speaking with them.
The Elder Planning Counselor designation program is designed with you in mind. Our goal is to give you the education and tools that you need to work confidently and profitably within the 50+ age group.
EPIC CONFERENCE | INTRODUCTION | ELDER FACTS | PROGRAM CURRICULUM
BENEFIT TO YOU | VERIFIED CE CREDITS | TUITION | FAQ'S | LIVE CLASS SCHEDULE
DISTANCE LEARNING | GRADUATE COMMENTS | EPC MEMBERSHIP | CODE OF ETHICS
MEET THE FACULTY MEMBERS | COMPLAINTS AND COMPLIANCE | OUR PARTNERS
MEDIA | MEMBER LISTING | MEMBER UPDATE | MEMBERSHIP RENEWAL | CONTACT US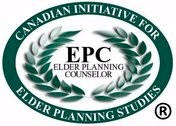 Canadian Initiative for Elder Planning Studies Inc.
203-4438 Ontario Street

Beamsville, ON L0R1B5

Toll Free Phone 866 833-8606 Toll Free Fax 866 209-5111
This web site Copyright 2019 CIEPS






"EPC designation, EPC, canadian elder benefits, Elder Planning Counselor, Distance Learning, Correspondence Course, CE Credits, CSA, Certified Senior Advisor, estate planning, end of life planning, senior social issues, elders, caregiving, caregiver, chronic illnesses, retirement benefits, government benefits, OAS, CPP, lifestyle, dementia, dymentia, alzheimer's, alzheimers, medicare, bereavement, snowbirds, funeral planning, end of life issues, designation program, training, certification class, correspondence course, online study, seniors, 50 plus, textbook, correspondence, CIEPS, Canadian Initiative for Elder Planning Studies, competitive edge, advisors, older people, elder marketing, old, boomers, marketing strength, education, elder studies, institute, insurance financial planning, health, long term care, gerontology, lifestyle, counselling, retirement, training for professionals"