INTRODUCTION & ELDER FACTS
EPC DESIGNATION
The Elder Planning Counselor plays an especially important part in dealing with elders on a financial, social or health basis.
The astute professional who recognizes elder trends, wants, and needs, will have an ample supply of clients, prospects, and referrals to keep them busy.
We invite YOU to do what it takes and achieve your EPC Designation – TODAY! ENROL TODAY
ELDERS EXPECT MORE
The EPC Designation program will improve your options and give you more control over your business.
Before taking the EPC Designation course, many of our targeted professions treated the 50+ population in the same way as they did their younger clients and prospects.
What does the 50+ population expect from you?
Elders appreciate professionals who:
Know the issues and alternatives that are important and unique to senior life.

Respect their circumstances and confidentiality.

Provide guidance and assistance with the elder's best interests in mind.

Accommodate their physical and health challenges such as illnesses, vision, or hearing impairment, when speaking with them.
The Elder Planning Counselor designation program is designed with you in mind. Our goal is to give you the education and tools that you need to work confidently and profitably within the 50+ age group.
Any profession who works with elders will be exposed to the power of having the EPC Designation. Financial Services Professionals, Real Estate Agents, Doctors, Nurses, Health Care workers, Care Givers, Nursing & Retirement Home owners or employees, Social workers as well as Funeral Home Directors are only some professions and occupations that will benefit from this highly sought-after Designation.
View complete EPC Curriculum here - CURRENT EPC CURRICULUM
View more information on How to Become an EPC then decide which method is best for you and ENROL TODAY
_____________________________________________
View Complete TUITION OPTIONS
Live Exam Preparation Class - $995.00 + Tax
Distance Learning - $1095.00 + Tax
Webinar Learning - $1095 + Tax
Your first year's membership fee of $150.00 is waived upon payment of your tuition fee!
The EPC designation will be awarded upon successful completion of a Protored Qualification examination and acceptance to the Canadian Initiative for Elder Planning Studies.
_____________________________________________
SOME ELDER FACTS TO CONSIDER
Situation Critical - World Facts
Globally, the number of older persons is growing faster than the number of people in all younger age groups. By 2030, older persons will outnumber children under 10 (1.41 billion versus 1.35 billion). By 2050, there will be more people aged 60 years or over than adolescents and youth aged 10-24 years (2.1 billion versus 2.0 billion).

According to data from World Population Prospects: the 2019 Revision, by 2050, one in six people in the world will be over age 65 (16%), up from one in 11 in 2019 (9%). By 2050, one in four persons living in Europe and Northern America could be aged 65 or over. In 2018, for the first time in history, persons aged 65 or above outnumbered children under five years of age globally. The number of persons aged 80 years or over is projected to triple, from 143 million in 2019 to 426 million in 2050.

The number of persons 60 years and older will grow fastest in developing countries. Between 2017 and 2050, the number of persons aged 60 years and over living in developing regions is expected to more than double from 652 million to 1.7 billion whereas more developed countries will see an increase from 310 million to 427 million. The number of older persons is growing fastest in Africa, followed by Latin America and the Caribbean then Asia. Projections indicate that nearly 80 per cent of the world's older population will live in the less developed countries in 2050.

Unsurprisingly, in 2020 worldwide, women have a high life expectancy than men, as they are expected to live 85.8 years while men are expected to live 81.6 years.

In 2017, there were 56 million deaths globally; nearly half of these (49%) were people who were 70 years or older; 27% were between 50 and 69 years old; 14% were between 15 and 49; only 1% were older than 5 and younger than 14; and almost 10% were children under the age of 5.

The pace of population ageing is accelerating. Today's developing countries must adapt much more quickly to ageing populations than many developed countries but are often at much lower levels of national income and health and social welfare infrastructure and capacities, compared to other countries that developed much earlier.
Situation Critical – Canadian Facts at a Glance
At the turn of the century in Canada, the life expectancy was only 56 years of age.

In 1952 when the Old Age Security was introduced, the payout began at Age 70 and paid $40.00 per month…Life expectancy in 1952 was only 67 years of age.

Canadian women continue to live longer, but life expectancy for men remains stagnant for the third straight year, Statistics Canada reports.

In 2020 according to the world meter Canadian life expectancy was 84.74 years for women and 81.15 years for men.

The overall current life expectancy for Canada in 2020 is 82.96 years.

In 2014, over 6 million Canadians were aged 65 or older, representing 15.6 percent of Canada's population. In 2020, there were 6,835,866 people age 65 and over. By 2030 - in less than one decade - seniors will number over 9.5 million and make up 23 percent of Canadians

Beginning in 2016, there were more seniors (age 65 and older) than children (age 14 and under) in Canada. This trend is expected to continue over the next 50 years.

By 2051, the number of centenarians could reach nearly 40,000, Currently in 2020 there are 11517 people age 100 or over. The first cohorts of baby boomers, born between 1946 and 1951, will be aged 100 and older by then.

And finally, between March and June 2020, as COVID-19 spread across the country, Canada saw an estimated 7,576 excess deaths. That figure refers to deaths that exceed the number that would normally be expected during any given period of time. Of these excess deaths, StatCan found that 52 per cent were individuals age 85 and older, 36 per cent were aged 65-84 and 12 per cent were younger than 65.
The purpose of providing these numbers are to give you a perspective on the impact that aging has in Canada and the world, and the need to have the knowledge to deal with these important issues.
Please note that the previous numbers can change at any time throughout the year depending on when the stats were taken.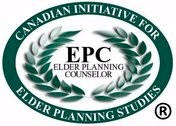 Canadian Initiative for Elder Planning Studies Inc.
203-4438 Ontario Street

Beamsville, ON L0R1B5

Toll Free Phone 855-882-3427 Toll Free Fax 866 209-5111
This web site Copyright 2021 CIEPS (2020) Ltd












"EPC designation, EPC, canadian elder benefits, Elder Planning Counselor, Distance Learning, Correspondence Course, CE Credits, CSA, Certified Senior Advisor, estate planning, end of life planning, senior social issues, elders, caregiving, caregiver, chronic illnesses, retirement benefits, government benefits, OAS, CPP, lifestyle, dementia, dymentia, alzheimer's, alzheimers, medicare, bereavement, snowbirds, funeral planning, end of life issues, designation program, training, certification class, correspondence course, online study, seniors, 50 plus, textbook, correspondence, CIEPS, Canadian Initiative for Elder Planning Studies, competitive edge, advisors, older people, elder marketing, old, boomers, marketing strength, education, elder studies, institute, insurance financial planning, health, long term care, gerontology, lifestyle, counselling, retirement, training for professionals"