ELDER PLANNING COUNSELOR DESIGNATION PROGRAM
The Canadian Initiative for Elder Planning Studies, believes that working with the maturing client involves a "total needs approach", and that these needs evolve from an individual's early wage-earning years and continue to change as the individual moves through the aging process. Our Elder Planning Counselor EPC curriculum is a comprehensive education program designed to recognize these needs and provide you with the essential knowledge and tools that are necessary to effectively develop a proper rapport and design practical solutions.
Our mission is to enrich the knowledge and understanding of professionals including Insurance and Financial Advisors, Real Estate Agents, Attorneys and Accountants, Care givers, Medical personnel and generally people who work in the 50+ age group through education on topics focusing upon the evolving and specialized needs of Canadians as they age.
The Elder Planning Counselor program offers you:
Ø The most comprehensive, up-to-date educational content available in the marketplace today.
Ø Access to quality education from a company that is respected in the Financial Services Professional Development field.
Ø Educational instruction and content from many internationally recognized, qualified educators who are highly regarded in their fields
Ø Modules that are relevant and specific to your professional practice, together with the flexibility to tailor your learning towards your career objectives.
EPIC CONFERENCE | INTRODUCTION | ELDER FACTS | PROGRAM CURRICULUM
VERIFIED CE CREDITS | TUITION | FAQ'S | LIVE CLASS SCHEDULE | CODE OF ETHICS
DISTANCE LEARNING | GRADUATE COMMENTS | EPC MEMBERSHIP | MEET THE FACULTY MEMBERS | COMPLAINTS AND COMPLIANCE | MEMBER UPDATE | MEMBERSHIP RENEWAL | OUR PARTNERS | MEMBER LISTING | MEDIA | CONTACT US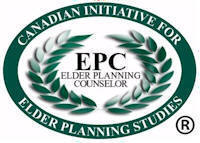 Canadian Initiative for Elder Planning Studies Inc.
203-4438 Ontario Street

Beamsville, ON L3J 0A4

Toll Free Phone 855-882-3427 Toll Free Fax 866 209-5111
Copyright CIEPS (2020) Ltd






"EPC designation, EPC, canadian elder benefits, Elder Planning Counselor, Distance Learning, Correspondence Course, CE Credits, CSA, Certified Senior Advisor, estate planning, end of life planning, senior social issues, elders, caregiving, caregiver, chronic illnesses, retirement benefits, government benefits, OAS, CPP, lifestyle, dementia, dymentia, alzheimer's, alzheimers, medicare, bereavement, snowbirds, funeral planning, end of life issues, designation program, training, certification class, correspondence course, online study, seniors, 50 plus, textbook, correspondence, CIEPS, Canadian Initiative for Elder Planning Studies, competitive edge, advisors, older people, elder marketing, old, boomers, marketing strength, education, elder studies, institute, insurance financial planning, health, long term care, gerontology, lifestyle, counselling, retirement, training for professionals"